---
Portable Network Engine

Portable Edition only
The Proxifier Portable Edition v3 features a completely new network engine. Along with better reliability and robustness, it provides support for 64-bit applications and significantly increases compatibility with third party software.
Some settings of the engine are configurable and can be accessed at
Profile->Advanced->Proxification Engine... Proxifier menu.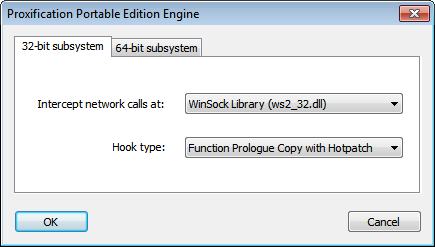 Here you can choose the point in the network API stack where Proxifier intercepts network calls and the hook type to use.
The default settings should be OK for the vast majority of users. However on some systems the default settings can cause conflict with third party software (especially antivirus and firewall software).
In this case you can try to change engine configuration in order to bypass the conflict.
On 64-bit versions of Windows it is also possible to configure the 64-bit engine. The 32- and 64-bit subsystems and engines are completely isolated.