---
Windows Service Mode

Standard Edition only
Proxifier can run as a Windows Service. This mode provides two main features:
Proxifier can run in the background when no user is logged on to the machine.
Only the administrator can start/stop the service and change the configuration.
Running Proxifier as a service requires a special configuration and may require additional effort and skills.
The Windows Service mode has been greatly simplified and improved in Proxifier Standard Edition version 4. A dedicated help tool, ServiceManager.exe, was added to simplify the configuration and management of the Proxifier Service. Users may still use the old setup from version 3 to run the service, but the new approach is recommended.
You can run Proxifier Service Manager using the View -> Service Manager menu command in Proxifier or directly from the Proxifier home folder. The window of the Proxifier Service Manager is shown below.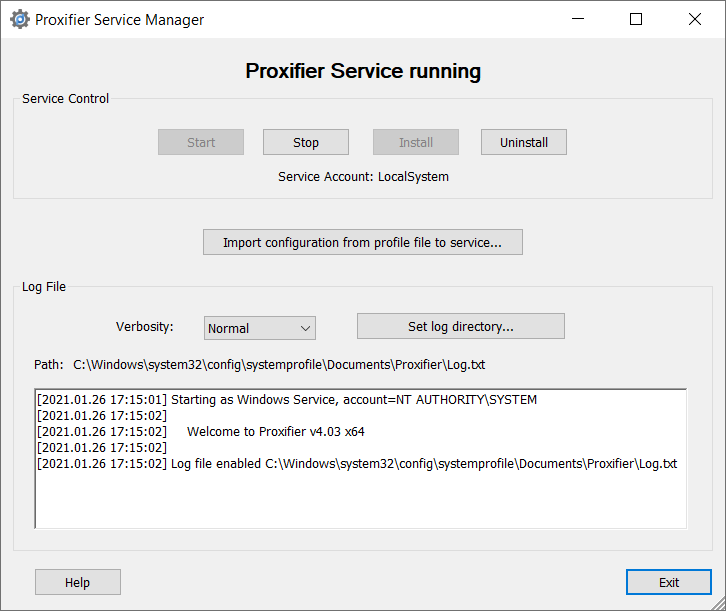 Service Control
Four buttons in the Service Control section allow users to Start, Stop, Install, and Uninstall the Proxifier Service.
The Service Account string located below the buttons indicates the user account from which the service is running. You can change this using the Services snap-in (under Administrative Tools in the Windows Control Panel) or a command-line utility, sc.exe. By default, the LocalSystem account is used.
IMPORTANT! To run the Proxifier Service after the trial period, you must register Proxifier with a license key under the corresponding user account or across the entire system. To do the latter, please check All users on this computer at the Proxifier registration dialog (Help -> Registration).
Users can run and test the Proxifier Service without registration during the initial 31-day free trial period.
Configuration
After installation, the service runs with an empty configuration. Run Proxifier in the regular mode to build and test the configuration for the service mode. Once that is done, save the configuration to a profile using the File -> Save Profile As or File -> Export Profile command in the Proxifier menu and then use the Import configuration from profile file to service button of the Service Manager to import the configuration.
You must restart the service to apply the changes.
Log File
The Proxifier Service can write the log file. To enable this, set the Verbosity level. The levels are the same as those of the Output Level. Optionally, you can use Set log directory
If the log is enabled, the Service Manager renders its content in real time in the corresponding window.