---
Manual Proxification

Standard Edition only
Apart from using Proxification Rules, you can set proxification options manually for certain applications. When Proxifier is installed and running, Windows adds a Proxifier command to the .exe-file context menu.
The Proxifier submenu offers the same actions as the Proxification Rules. You can select a proxy or a chain, block connections, or process connections directly. When an instance of an application is started using the Proxifier command, all other rules are ignored for that instance (specific PID).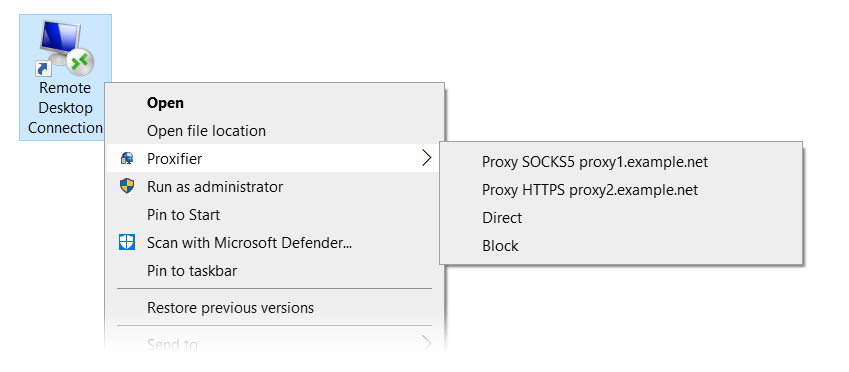 Please note that the Proxifier command is available only for .exe files or shortcuts (.lnk files) that point to .exe files. Windows can use various kinds of surrogate shortcut that technically are not links to .exe files. If you do not see the Proxifier command in the context menu of an application, it is recommended that you find its executable file and create a direct link to it.
To display the context menu for application icons on the task bar, hold down the "Shift" key while right clicking them.
Another problem may result from applications that use launchers and multiple instances. If you open a program that starts another one, only the first program will be processed according to the Proxifier command. For example, browsers usually launch multiple instances, so only the original instance will be affected by the manual proxification.